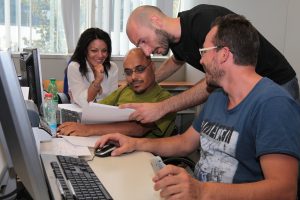 The Europe Consulting, integrated cooperative of type A and B, has been working for years with the Department of Civil Protection to involve people with disabilities in institutional activities.
The route begins in 2004 when the Department and the Cooperative gave life to "Able to protect", a research project and work placement for persons with disabilities in the Press Office. 
The creation of a working group that could deal with the world of disability was strongly supported by the Department of Civil Protection: if it is true that people with disabilities should have the opportunity to participate in the life of the community with as little barriers as possible, it is equally true that there must be no justification for abandoning this principle in major emergencies.
It is with this idea that the Interface Unit with the World Disability (UIMD) was created.
The working group began operating in August 2011 at the headquarters of the Department, in Via Vitorchiano 4 in Rome, where the staff of Europe Consulting undertakes this new career path in cooperation with the offices of the Department.
The project aims at the integration of knowledge between operators who are civil protection experts and workers with specific disabilities, bearers of a particular form of knowledge that comes from experiencing firsthand the needs related to the specific condition that they live every day. With this background a collaboration was built with two offices of the Department : Office I – Voluntary Work, Training and communication and Office IV – Emergency Management.